Inspired by Athletes
Designed for Performance
"Innovation comes from need.. and it comes from the need to perform better." -Bryce Thatcher
Innovation and the ability to perform at peak levels are core values behind research and development at UltrAspire. In order to create and introduce industry driving products that raise the bar in performance, they must be put to the test by those who would benefit from them. Inspired By Athletes is not just a company slogan but more a philosophy. UltrAspire products that reach the market have been tested and refined many times over to ensure that nothing holds you short of your fullest potential.
Sweat Proof Webbing
Made of Nylon, this webbing is hydrophobic which helps to repel moisture and avoid absorption. This prevents weight increase keeping your pack as light as possible and helps to prevent chafing.
Distributed Weight
The waist packs are designed with a 2/3 1/3 weight ratio creating more stability with less tension and balances the weight naturally. The lower load placement allows for a better center of gravity and efficiency on technical terrain.
On-The-Go Pockets
The pack is built with efficiency in mind, designed to ensure that you can access all core components on the go with little energy expended.
Durable and Light Weight Fabrics
Materials are selected for their high strength to weight ratio and deliberately placed and constructed for maximum durability. Abrasian resistant fabrics withstand areas of terrain contact. Reinforced panels are strategically placed at high stress points.
When the human body exerts force, 80% of the power it generates is converted to thermal energy. This means that most of the energy you use when running, climbing, or doing anything else is lost and becomes heat. The hotter you are, the worse you perform. The Ultracool System is a collection of technologies designed to dissipate heat and keep you cool. This system allows you to maintain a lower body temperature by dispersing heat during intense activity, keeping you performing at the highest level.
Small Footprint
Anatomically engineered, the pack covers only what is necessary on the body to keep it secure thus allowing for your temperature to remain cooler during heavy energy exertion.
Ultra Light Mesh
The most breathable mesh on the market, this 3-layered, large holed honeycomb mesh is made from polyester which helps to draw moisture away from the skin without absorption.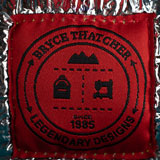 Insulated Pouch
Made of Mylar, the insulated compartment reflects and traps temperatures to help keep fluids hot or cold. Additional foam with air pockets creates more space for the insulation to take effect.
MAX02™ Sternum
The Max02™ Sternum is a shock cord securing system that helps create a comfortable & natural breathing pattern while at the same time keeping the pack secure. The shock cord allows for stretch outward and 100% rebound which keeps the pack snug against your body empty or fully loaded with no restriction of movement.
The HerFit Harness is a securing strap system designed specifically to fit women. The straps allow for chest, heart, and lungs to be free with no restriction to the open air. Designed for a no-chafe, no-hindrance fit, the HerFit Harness provides long term comfort and allows for the ability to perform at the highest level while having your essentials directly at your fingertips when you need them.